Teretha Houston is the author of the best-selling sci-fi thriller novel Nowhere to Land.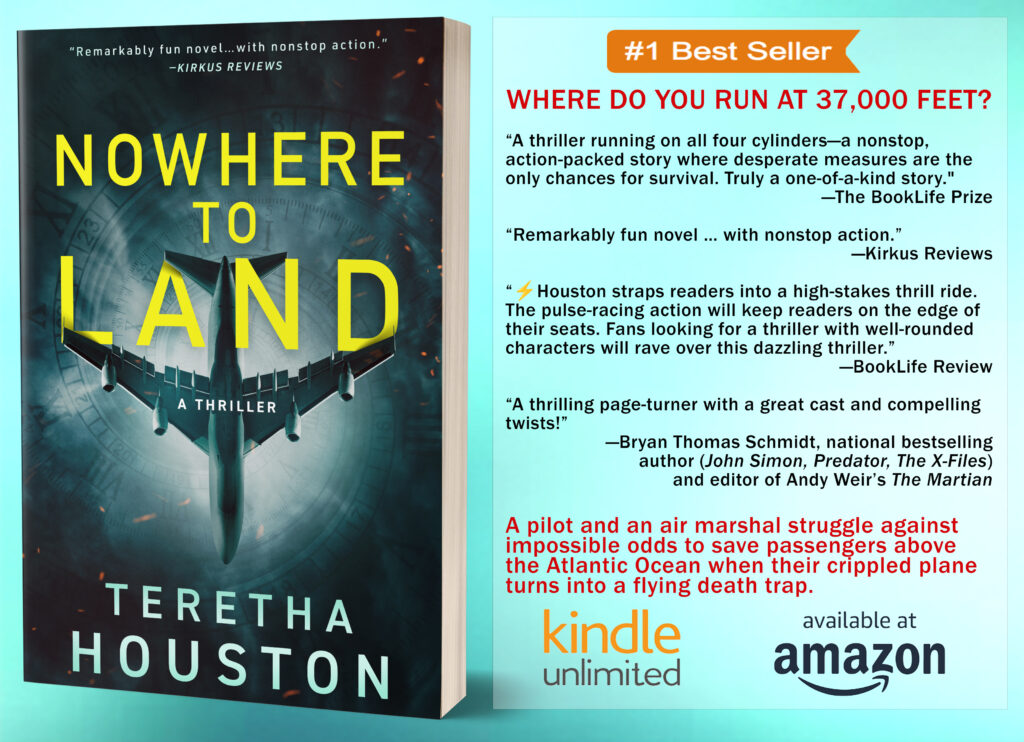 Where do you run at 37,000 feet?
"A thriller running on all four cylinders—a nonstop, action-packed story where desperate measures are the only chances for survival. Truly a one-of-a-kind story."
—The BookLife Prize
"Remarkably fun novel … with nonstop action."
—Kirkus Reviews
"⚡️Houston straps readers into a high-stakes thrill ride. The pulse-racing action will keep readers on the edge of their seats. Fans looking for a thriller with well-rounded characters will rave over this dazzling thriller."
—BookLife Review
"A thrilling page-turner with a great cast and compelling twists!"
—Bryan Thomas Schmidt, Hugo-nominated, national bestselling author (John Simon, Predator, The X-Files ) and editor of Andy Weir's The Martian
A pilot and an air marshal struggle against impossible odds to save passengers above the Atlantic Ocean when their crippled plane turns into a flying death trap.
Quentin Kane hasn't been a detective for years, but when a mysterious woman asks the air marshal to help bring down a powerful, international organization, he gives in. The next morning, he wakes up with no memory of the woman or the odd wooden box she gave him.
Eden Stone's first day as a Boeing 747 pilot quickly devolves into terror as increasingly more horrifying events plague her transatlantic trip. Something or someone is turning every inch of the aircraft into a deadly weapon.
Trapped thousands of miles from land, the passengers and crew have nowhere to run, nowhere to land, and they're running out of sky.
It's Michael Crichton's Jurassic Park blended with T.J. Newman's Falling with a bit of Stephen King horror at its core.
Armageddon at Defcon 1
is another thriller novel she authored. She is the screenwriter of the comedy I'm with Stupid and the thriller Night Closes In. She is a former weekly newspaper columnist and a playwright. She has been on local news programs, Good Morning America, and Saturday Night Live.
I'm With Stupid is a comedy with heart.
A simple trip to Washington turns into chaos when a farmer from the backwoods of Mississippi visits his pompous brother in Maryland to try to mend their bitter ten-year feud.
This modern-day Cain and Abel must work together when one suddenly stands to lose everything — that is if they don't kill each other first.
Pierre dreams of being the next Oprah, while Zeek's biggest goal is to carry out his father's deathbed plea.
Amir Carpenter plays Pierre, and Karlton Johnson plays his brother Zeek.
This short film is losely based on the high-stakes feature-length script of the same name.
Running time: 23 minutes
NIGHT CLOSES IN is a horror/thriller.
A night security guard struggles to survive a killer who has forged a unique, terrifying weapon.
A campus security guard discovers a cryptic message and then finds that all of the doors have been chained shut. Events grow increasingly sinister in nature as a shadowy figure cloaked in darkness leads the guard into a deadly trap.
Isolated, with no way to escape, the security guard struggles to survive a man who seems to have anticipated his every move.
The killer, armed with an unusual weapon forged just to torture and kill the security guard, closes in for the kill.
The security guard is played by Amir Carpenter, (who also co-stars in I'M WITH STUPID), and the killer is played by Russell Rinker (who is also known for his stellar performances as a member of BLUE MAN GROUP.) Running time: 13 minutes.